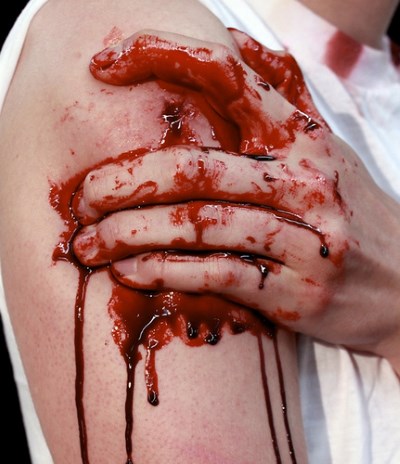 POLICE OFFICER ACCIDENTALLY SHOOTS RAVER DURING DONK SET
A drunk police officer who was getting his groove on at a Montreal rave is in serious trouble after his dance moves lead to the accidental shooting of 19 year old Westmount resident Theresa Lemay. The officer's firearm tumbled to the ground after he did a somersault when the DJ started playing Blackout Crew's "Put A Donk On It". This resulted in his gun sending a bullet into Ms. Lemay's arm.
The officer quickly picked up his gun after it was discharged, and tried to nonchalantly leave the party, but his partner restrained him. He is currently facing a disciplinary hearing while his superiors decide if they should press charges against him. That decision could come as soon as next week.
Ms. Lemay is expected to make a full recovery according to the Montreal Police. In a statement, the Urban Dance Patrol division of the SPVM said that their police officer "was not following protocol. His actions are not in line with what we expect from our police officer, and we will be taking measures to ensure that such an event never repeats itself. The UDP exists to protect Montreal's nightlife, not to shoot it up."
Montreal DJ Dunkadonk, who was playing at the event where the firing took place, says it's the first time he ever saw an officer shoot a raver. "It traumatized me," says the DJ. "I'm going to have nightmares of people getting shot whenever I play Donk music from now on. That police officer ruined my music career."