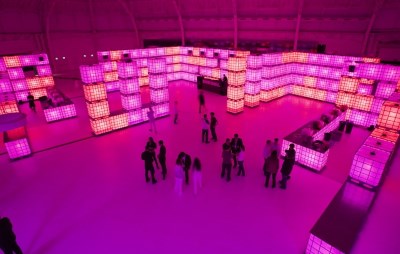 YOU NEED TO EAT AT THIS RAVER RESTAURANT BEFORE YOU DIE
Toronto will soon be home to The Detroit Beatsmith, the world's first rave themed restaurant, where all the waiters are dressed like drug dealers, the maitre d'hotel is also a DJ, and every item on the menu is inspired by a bit of techno history. Even the poutine is EDM themed say restaurant owner Barkley Dawson.
"I wanted to create something unique, an eating experience that would transport people back to their first rave party," says Barkley. "Hell, I even have an arrangement with the Toronto police so that they raid our restaurant every couple of weeks. You'll be there eating your meth flavoured tacos when all of a sudden a dozen officers will bust into the restaurant and chase you outside."
The Detroit Beatsmith is set up like a party venue and not a restaurant. "We have porta potties instead of toilets, we use strobe lights instead regular lights, our speakers are incredibly powerful so don't expect to have normal conversations over here either," says Barkley. "Basically, imagine a rave that also sold food. That's what you get when you come to the Detroit Beatsmith. It's the only restaurant of its kind."
The restaurant will have it's grand opening on the 28th of April. Dress codes will be effect, so patrons will have to wear fun fur pants, candy bracelets, and carry glow sticks in order to get in.