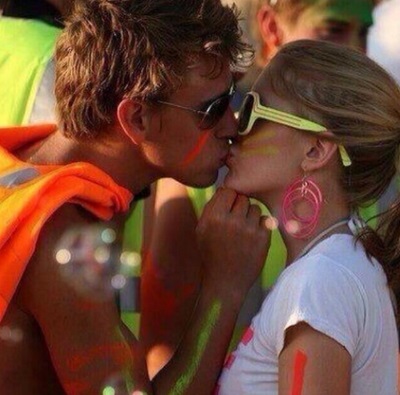 HOPELESSLY SINGLE? MARRIAGE PARTIES CAN HELP
FEATURED ARTICLE
The perpetually lonely and hopelessly single are about to have their prayers answered once Montreal's inaugural Marriage Party kicks off this weekend. The event is the first of its kind in North America, a party that guarantees a marriage partner to anyone who walks through the door.
"Walk in single and you'll leave in matrimonial bliss," says Ginette Haberno, the event's organizer. "Everyone who wants a partner will get a partner. Come to get married, stay for the psytrance."
Ginette says the idea for her event came to her while watching a documentary on Russian mail-order brides. "I realized that you don't need love to cure loneliness, you just need a warm body," says Ginette. "And that's what my marriage party is all about. Romantic love is a recent western invention. It's only a few hundred years old, if that. In the past, people didn't get married for love, they got married because it made their lives easier. And I think a lot of Montrealers are hungry for what marriage used to be about: a simple partnership between two people. The truth is, it's easier to grow to love someone than it is to fall in love with them. If you spend enough time with someone, you'll fall for them. That's a fact."
Ginette says the rules of her marriage party are simple. "If you attend the party, you don't get a say in who you marry, that's up to our psytrance DJs," says Ginette. "The moment you hit the dance floor, the DJs will start telling you who to dance with, and the moment they find a dance partner that you look good with, bang. You get married. On the spot. We have a priest who will rush on to the dance floor and officiate the marriage right then and there. Instant marriage. And of course, after you get married, you can keep dancing! It's like the proposal, the marriage, and the honeymoon all wrapped in one delicious event."
Tickets only cost $40. You can buy yours at Le Petit Manchild Adult Daycare Centre.