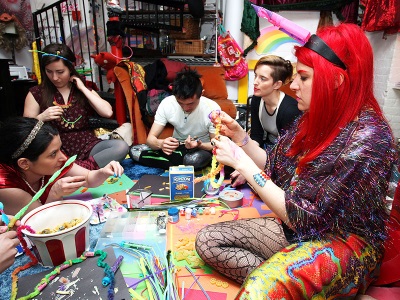 ADULT PRESCHOOL CENTER COMES TO MONTREAL
FEATURED ARTICLE
Le Petit Manchild, Montreal's first adult preschool, will celebrate it's grand opening on May 28th. "We're so happy to play our part in the downfall of western civilization," says Le Petit Manchild owner Patrice Lemattress. "Ever since we first heard about the existence of adult preschools, we knew we had to bring one to Montreal. It's time our city recognizes that being a grown-up is so last millennium. Today, we're all Peter Pan. We never have to escape childhood. We can remain young, dumb, and immature well into our golden years. And we should!"
Patrice says that Le Petit Manchild lets grown men and women get in touch with their inner toddlers. "It's kindergarden for men with receding hairlines and women with menopause," says Patrice. "Our studio is fully stocked with play-doh, fingerpaint, napping spaces, and a whole bunch of toys and games that will make you question why you ever took life seriously in the first place."
Patrice hopes Le Petit Manchild will encourage adults to let go of their dignity and pride. "For the low cost of $250 a month, anyone over the age of 25 can sign up and act like a four year old in our state of the art facilities," says Patric. "They can yell and cry and pout and just be completely, totally, self-absorbed brats. It's magical."
Patrice thinks that if enough people sign up for Adult Preschool, our civilization might finally collapse, ushering in a golden age of rape and pillaging. "Our business isn't just an exercise in self-indulgent capitalism," says Patrice. "We're trying to make the world a better place by encouraging people to just give up on society so that we can finally return to the brutal subsistent lifestyle of our ancestors."
Le Petit Manchild is located in the heart of downtown at 1974B Turn Blvd.