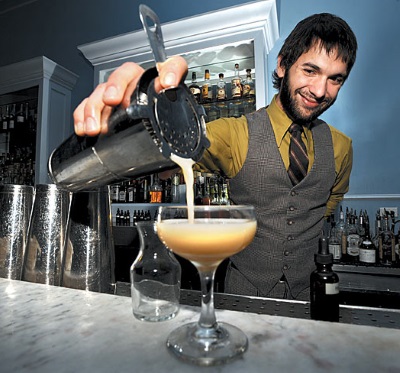 BARTENDER SERVED LAXATIVES TO ANNOYING CUSTOMERS
FEATURED ARTICLE
A Bartender at Bar Les Fesses D'Or was arrested early Saturday morning for placing laxatives in the drinks of customers he found annoying.
"We regret to inform our customers that one of our bartenders abused their trust and put them in harm's way," says bar owner Leo Goudreau. "We will be temporarily closing the bar in order to a do full analysis of how drinks are served on our premises in order to prevent such an incident from reoccurring."
Police received an anonymous tip last week about the bartender's shenanigans. "We were informed through Info-Crime that this bartender may have been mixing laxatives into the drinks of customers he didn't like," says Sgt. Batista of the SPVM. "We sent undercover police officers to pester him in order to see if he would slip laxatives into their beers. He did."
The police won't go into the exact specifics of how they annoyed the bartender, though Sgt. Batista did mention that it involved singing songs off key and yelling about how much they hated French people.
Police say that the bartender in question may have given hundreds of unruly customers laxatives. "If you developed diarrhea after you attended Bar Les Fesses D'Or, please get in touch with the police as we would like to talk to you."
What would you do if a bartender slipped laxatives into your drink? Let us know!