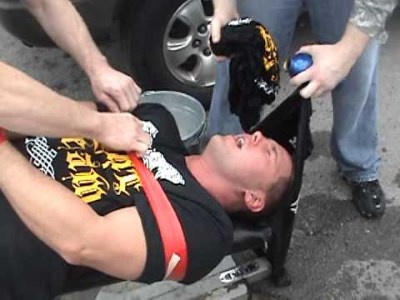 RAVERS WATERBOARD DJ FOR PLAYING DUBSTEP
Half a dozen ravers were arrested over the weekend in what police are calling a terrifying act of brutal violence. "They tortured a DJ for playing dubstep ," says Sgt. Peralta of the Montreal Police Force. "Thankfully, the DJ survived, though he suffered irreparable brain damage and will never play music again."
Police say that the ravers swarmed the DJ during his set. They yelled at him and asked him to stop playing dubstep. "They wanted him to play some glitch house," says Sgt. Peralta. "When he refused and kept playing his original set, they yanked off his headphones and attacked him with his laptop."
The beating escalated until the DJ was bleeding and disoriented, at which point the enraged mob of ravers dragged him outside the party. "The event took place in a warehouse that bordered the St-Lawrence river," says Sgt. Peralta. "Once the ravers were outside, they found an empty bucket in the parking lot. One of the ravers took off his shirt while the other attackers filled the bucket with water from the river. They then placed the t-shirt over the DJs head and proceeded to waterboard him."
Water boarding, a method of enhanced interrogation pioneered by conservative politicians, involves pouring water over a cloth placed on top of person's face. The experience simulates the sensation of drowning.
"This isn't the first time a Montreal DJ has been waterboarded by angry ravers," says Sgt. Peralta. "And I doubt it'll be the last. In the last six months alone, Montreal has had four such incidents. Our city is devolving into a dystopian post-apocalyptic nightmare. It doesn't feel like Montreal anymore, it feels like we're living in a Mad Max movie. Twenty years ago, we didn't waterboard our DJs. We did the civilized thing, we just set them on fire. I wish ravers would go back to their roots. Don't drown your local DJ, burn him."