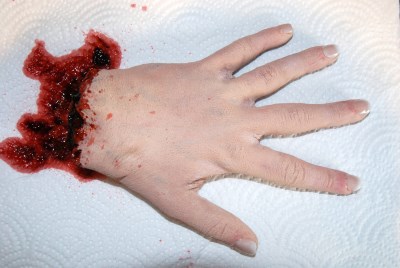 MAN ARRESTED AFTER CUTTING OFF PASSED OUT RAVERS HAND
Leroy Jenkins, a 24 year old lumberjack from the city of Valleyfield was arrested in Montreal on Saturday after he chopped off a man's hand at a rave. The victim had passed out after mixing GHB with alcohol, and for reasons that remain unclear, Mr. Jenkins decided to attack him with an axe. Several of the party goers who witnessed the brutal cleaving passed out in shock, while the remaining tackled and restrained Leroy until the police arrived.
"Axe attacks like the one that happened this weekend are, unfortunately, increasingly common occurrences in our city," says Lt. Uhura Takei. "Deranged lumberjacks have begun stalking Montreal's nightlife, chopping off the body parts of party goers who have passed out. At this time, we're not sure what's motivating these lumberjacks to dismember ravers, we only know that we've arrested fifteen of them in the last five months."
Greg Tightplut, who helped restrain Leroy, says the attack was one of the most surreal things he had ever witnessed. "I was dancing my ass off when the guy right next to me took out an axe and attacked a kid that was passed out on the ground," says Greg. "My fun fur pants got splattered with his blood. I was so pissed off, I punched the guy with the axe and tackled him to the ground. Everyone else around me was vomiting and crying and screaming."
Police are asking ravers not to pass out at parties, lest they wake up missing a hand or foot. "Bottom line, if you enjoy having two hands and two feet, don't fall asleep at a party," says Lt. Uhura. "The risk of being attacked with an axe by a lumberjack are very real, and ravers need to take them seriously. Party safe, by partying with your eyes wide open."
The victim is expected to survive.