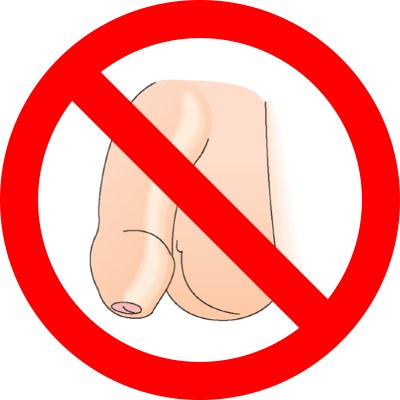 CONTROVERSIAL NIGHTCLUB BANS UNCIRCUMCISED MEN FROM ITS PREMISES
Montreal's Club Chapeau De Fesse has drawn controversy after banning uncircumcised men from it's property. "A few months back a promoter started throwing events exclusively for well endowed men and large breasted women," says Chapeau de Fesse owner Roger Pilon. "I was inspired by his idea and decided to offer Montreal a one of the kind establishment: one where all the men were circumcised. That means any woman or gay man who comes to this event knows exactly what they're getting when they pick up someone to bring back home: an aesthetically pleasant penis that doesn't have that's free from ugly foreskin."
Many women and gay men are thrilled by Club Chapeau De Fesse's new "No foreskin" policy. "No offence, but I like my penises cut and clean," says local slut Elizabeth Thompson. "This club guarantees that my one night stands will never end with me being disappointed by someone's unhygienic foreskin covered penis. Sucking on a penis with foreskin is like sucking on an elephant trunk. It just doesn't feel that nice."
Cock hungry flamboyant homosexual Benny Diner agrees. "Ugh, I don't get gay men who are uncircumcised," says Benny. "I really don't. They're like aliens to me. Weird, slimy aliens with odd looking penises that I want to laugh at, not carefully cradle in my hands. When I go to a club, I want to find a big beautiful cock I can worship, not a scary wrinkly penis monster I want to run away. Chapeau de Fesse has my hunt for beautiful penises a lot easier."
Roger says business has exploded ever since he instituted his no foreskin policy. "Eventually, I want to make it possible for customers to rate each other's penises, and men who have exceptionally beautiful cocks will get to drink free. My dream is to make Club Chapeau De Fesse the world's premiere location for well endowed men with wonderful wangs, wangs that are works of art."