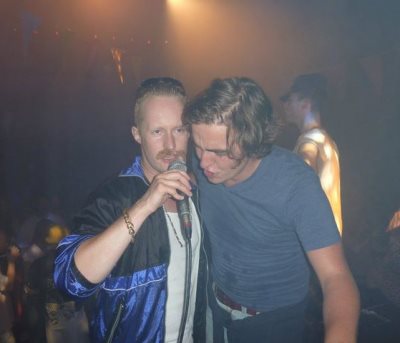 HAPPY HARDCORE KARAOKE TAKES MONTREAL BY STORM
FEATURED ARTICLE
Montreal's nightlife will never be the same now that happy hardcore karaoke has hit the city like a hurricane. It's hard to find a club in town that hasn't at least flirted with the idea of hosting a night dedicated to people singing badly to very vast, very chipper music. "People love happy hardcore and they love karaoke" says Le Bar Fedesse owner Jerome Depardieux, "so it makes sense that they'd love both of them mixed together. It's a match made in heaven, like Brad Pitt & Angelina Jolie, minus all the exotic children."
Jerome was visiting the Netherlands in 2013 when he stumbled on to his first happy hardcore karaoke event. "I got really drunk on cheap wine, and the next thing I knew, I was in this dingy little bar in Utretch when I realized something weird was going on," says Jerome. "There was a guy on stage wearing a pink furry dragon outfit, and he was singing the lyrics to Dune's 'I can't stop raving'. The people in the bar were dancing like crazy. It was magical."
The genre may have lost much of its lustre in Montreal, but it was still going strong in Northern Europe. "After I saw how much fun people were having at these events, I knew I had to bring them to Quebec."
It didn't take long for Jerome's happy hardcore events to explode in popularity. Soon there dozens of copy cats throughout the city. "Happy Hardcore is experiencing a renaissance," says music historian Kate Flapper. "We're living through the second golden age of happy hardcore. I don't know if that's a good thing, but I know that it's happening."
Party goers, for their part, are more than happy to see the sometimes maligned music genre reclaim it's throne. "It's the best music ever," says 47 year old raver Betty Crampton. "I love singing to happy hardcore. Well, I love trying to sing to happy hardcore. It's kind of hard to keep up with, but that's what makes it so much fun."
Happy hardcore is very fast, with most songs falling in the 160 to 180 beats per minute range. "Singing to a song that's hitting those kind of speeds isn't easy," says music coach Beryl Thomas. "But since it's only happy hardcore, it doesn't really matter if you sing badly, since no one will notice anyways."
Betty Crampton agrees. "Oh, yeah, the best thing about happy hardcore isn't that it's good — no, the best thing about happy hardcore is that it's so cheerful. If you're happy, it doesn't matter how awful you are. Haters are always going to hate, but if you have a smile on your face, it doesn't matter. Fun fun fun is number one."