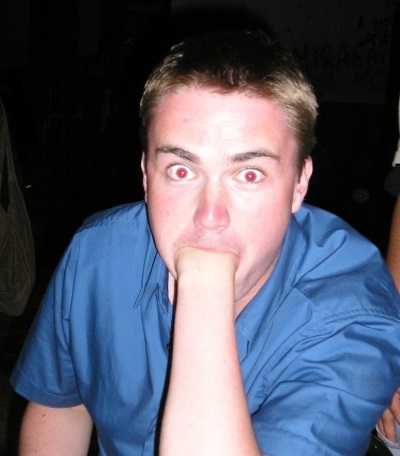 GERMANY TO LAUNCH THE WORLD'S FIRST CANNIBALISM RAVE
FEATURED ARTICLE
This November Germany will host Essen Mich, the world's first Cannibalism Rave, says promoter Erik Lebensabschnittgefährter. "Germany is home to the world's largest cannibalism fetish community, and this fall our community is going to have a coming out party that will rock your flesh off," says Erik. "There will be dancing, there will be techno, and there will be cannibalism. What more could you want? Tickets are only thirty dollars, though supplies are limited. We're keeping our first party nice and cozy, since no one has ever done anything like it." Over fifteen DJs are lined up to play the event, which will involve plenty of consensual people eating.
"Germany is one of the most progressive countries when it comes to matters of consent," says lawyer Bernard Veinlit. "In many countries, you can't eat other people, even if they consent to be eaten. Not so in Germany. And I think this is important, because it emphasizes that human beings belong to themselves, not to the governments they live under. If you feel like cutting off your arm and feeding it to another person, you should be free to do so. I think it's the height of puritanism to dictate how other people can use their bodies."
Essen Mich will also feature an on-site surgeon to help amputate party goers who would like to donate body parts to the grand feast. "I've already booked my plane ticket. I can't wait to go!," says American Bob Pasdepieds. "I've been dreaming of watching someone eat me for so long, and now I'll finally get to experience it for real. You'd never be able to throw a cannibalism party in America. "
Bob isn't the only cannibal tourist. "We're expecting dozens of people from around the world," says Erik. "I do think that Germany will one day reap millions of dollars in cannibal related tourism. It's a very common fetish, though most people are too shy to talk about it in public. I hope to change that, to encourage people to speak up and to speak out about their kinks. It's okay to want to be skewered, roasted, and eaten. It's perfectly natural, and it's just silly to feel ashamed about this sort of thing."
Some people aren't so sure. "I think it's shameful that there are no laws in place to prevent such a gathering," says German M.P Irene Keinspaß. "We may not be able to pass any laws in time to stop the first Essen Mich, but I will push to pass a law so that there is no second Essen Mich."
Erik doesn't think her efforts will be successful. "Germany has a long tradition of political tolerance," says Erik. "I'm positive that Essen Mich will succeed, and will continue to succeed for years and years to come."