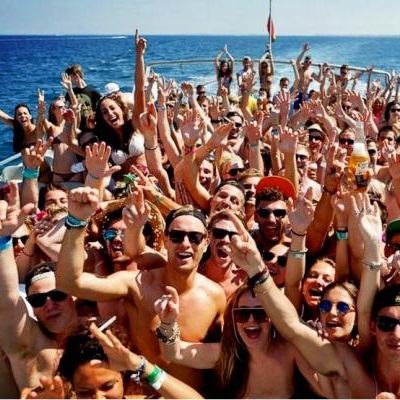 DOZENS OF RAVERS DROWN AFTER PARTY BOAT SINKS
A boating disaster has claimed the lives of at least forty ravers, with dozens more still unaccounted for. "It was the inaugural voyage of Montreal's very first rave boat, The Mermaid," says Bonny Smythe, who survived the incident.
"Imagine dancing the night away on the St-Lawrence river. That's what the Mermaid was all about," says Bonny. "It was a chance to dance where no one had danced before, right on the water. The boat had a custom made, fiberglass bottom so you could see the water beneath your feet. For the first few hours, it was an amazing night, but then everything went wrong."
Forensic scientists say that the music was so loud, it caused the custom made fibreglass to crack. "The ship wasn't designed to handle that much bass," says Sgt. Batista of the SPVM. "It crumpled beneath the weight of the music."
Hunter Lavigne, the event organizer who designed the boat, is facing criminal charges for his role in the disaster. "At the moment, it's still too early to determine the exact nature of the charges that Mr. Lavigne is facing," says Sgt. Batista, "but we are confident that this isn't just a case of criminal negligence. We believe that the boat may have been deliberately sabotaged. We believe Mr. Lavigne knew that the boat couldn't handle the speakers he had installed into it. He never expected the boat to stay afloat. The Mermaid's inaugural voyage was a suicide mission."
Bonny still remembers the moment the water started rushing in to the boat. "It started a stampede," says Bonny. "I know a lot of ravers drowned when the Mermaid went down, but some of them were also crushed to death by people desperate to get off the boat. The worst thing is, Hunter was laughing as everyone struggled to get off. He knew what he was doing. He wanted us to die out there. I hope he burns in hell."