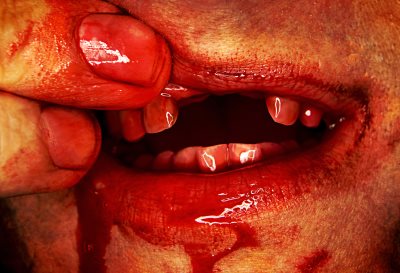 TOOTHLESS PARTY PROMOTER DENIES BITING OFF MAN'S PENIS AT TAMTAMS
Mathieu Alucard, a 33 year old party promoter from NDG, was taken into custody over the weekend after allegedly biting off a street vendor's penis. Mr. Alucard denies playing any role in the attack. "I am not responsible for the heinous crimes that I've been accused of," says Mathieu. "I have never bitten anybody's penis off. Not only that, but I haven't even ever had a penis in my mouth. My heart goes out to the street vendor, but I am not the man who has deprived him of his manhood. Someone else committed the crime, and the more time police waste on prosecuting me, the more likely the real criminal will escape justice."
The victim, who sells hacky sacks at Mont-Royal's Tam-Tams, was setting up his booth when a man accosted him. Montreal's Tam-Tams, a weekly gathering of hippies and potheads who play the bongos takes place every Sunday, and is well known for its peace loving atmosphere. The attack has some people wondering if more security is needed on the Mountain. "It used to be so safe here, but if people are getting body parts bitten off now, maybe the police need to step up their presence," says Judith Bloom, a 45 year old bongo enthusiast who has been attending the Tam-Tams for over two decades. "I don't know what this world is coming to when a guy can't even sell hacky sacks without someone biting off his penis."
Jason Dugat, a 23 year old yoga instructor, witnessed the brutal assault. "I was just practicing my asanas in the park when I noticed a guy in the corner of my eye getting jumped. By the time I got up to help him, the poor hackey sack sellers pants were around his knees, and there was blood everywhere. It was horrifying. His attacker just ran off into the woods, blood and bits of flesh dribbling from his mouth."
Police arrested Mr. Alucard after receiving numerous tips from people familiar with the promoter, claiming that he was undoubtedly responsible for the attack. "Matt is infamous among Montreal party-goers for his reputation as a toothless crotch biter," says Noah Davidson, a club owner who has worked with Mr. Alucard in the past. "He just wanders around his parties, sneaking up on men and biting them in the crotch. His bites were never this violent, but I guess after getting away with his actions for so long, he felt emboldened."
Mr. Alucard strenuously denies all allegations that he's ever engaged in routine genital assaults. "I just want to reiterate that I have not now, nor ever, bitten anybody's penis. At least not against their will."