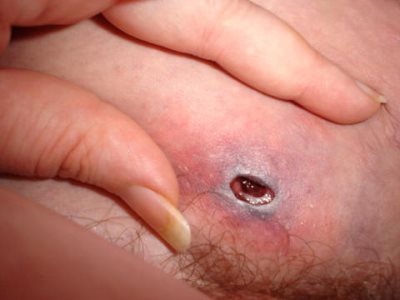 MONTREALER LOSES LEFT BUTTOCK WHILE PARTYING IN AUSTRALIA
Arietta Tremblay is in high spirits despite having lost a chunk of her left buttock to a venomous white tail spider while partying in the Australian outback. "Canadians don't realize how good they have it," says Arietta. "Here in Quebec, you can throw a party in the forest, and the most you have to worry about is getting your head stuck in a doritos bag. In Australia, if you're not careful, you can loose your ass. Literally. It happened to me."
The young Quebecoise was touring Australia with friends when they decided to attend an outdoor rave party in the middle of a field. "Arietta was dancing to this amazing Skrillex track when she suddenly felt this tingling sensation next to her crotch," says Elise Vezina, one of Arietta's travel companions. "At first, she thought the tingling was just her reaction to Skrillex, who is a musical god, but no. It wasn't. It was just spider venom coursing through her body."
It didn't take long for Arietta to realize something very bad had just happened to her. "Eventually, I felt this jabbing pain in my ass. It was like having anal sex with a dirty junglist. It was awful. I pulled down my pants and asked my friends to check it out, and they told me that my butt was swelling up. Apparently, it looked like a giant clown nose, it was so big and red."
The girls drove Arietta to the nearest hospital, which was nearly an hour away. "By the time I got to the hospital, I was in excruciating pain," says Arietta. "The doctor's said I was lucky, because white tail spider bites can be deadly. I could have died from that bite. When the doctor's got to me, necrosis had already set in, and they had to remove a portion of my left buttock. So now i've got an uneven butt. My left cheek is about an inch flatter than my right one. I don't think it's a big deal, and it's kind of funny now that i'm not in excruciating pain anymore."
Arietta says if there's one lesson she learned, it's that some places are safer to party than others. "Everyone in Quebec should be thankful that our spiders can't cause our flesh to rot away. We should count our blessings. Partying here is so much safer than it is in other parts of the world."