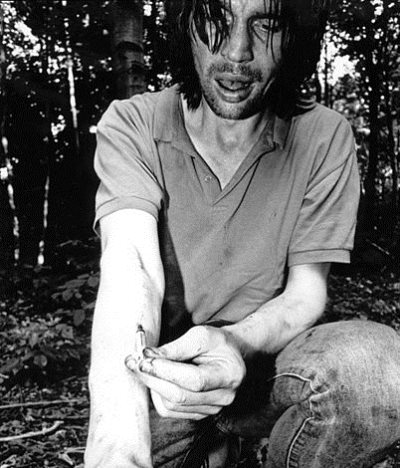 RAVER DIES AFTER GETTING HEAD STUCK IN EMPTY DORITOS BAG
FEATURED ARTICLE
Daniel Tremblay died on the weekend in what police are calling an unfortunate accident. "Mr. Tremblay suffocated to death after getting his head stuck in an empty doritos bag," said Sgt. Lemieux. "Mr. Tremblay had attended an outdoor dance party in the eastern townships, and after consuming a large quantity of drugs, was seen wandering off into a nearby forest. The following morning, hikers in the area happened across his body. His death is believed to be accidental."
John Grossier, who threw the event where Mr. Tremblay met his untimely demise, blames his death on party goers who refuse to clean up after themselves. "Ravers are filthy," says John. "I used to put up with it, but after Danny's death, I don't think I can throw another party. While no one know's for sure how Danny got his head stuck in that doritos bag, I think he passed out in the forest in a pile of raver refuse, and in that pile was a doritos bag placed in just the right way for it to fall on to his head, causing him to suffocate in his sleep."
Rebecca Hunt, an environmental safety specialist based out of the Eastern Townships, who has dedicated her life to educating teenagers about safe partying practices, says John is probably right about Daniel's cause of death. "Last week's tragedy could have been avoided had the ravers simply made sure to clean up after themselves" says Rebecca. "Woodland animals are constantly getting trapped in discarded packaging and other garbage that human beings leave behind. You've got dolphin's choking on plastic and birds and other animals getting caught in beer packaging, it's terrible. Just last week, a police officer in Florida had to remove a doritos bag that had gotten wedged on the head of a deer. Certainly, humans are nominally more intelligent than wildlife, and they should be capable of extricating themselves from an errant dorito bag, but when drugs enter the equation, anything is possible. How that bag got on to Daniel's head might be a mystery, but the fact that dirty ravers left that bag out there is beyond dispute."
John, for his part, has vowed revenge on Montreal's party scene. "I won't let anyone else die because party goers don't clean up after themselves," says John. "Daniel's death won't be in vain. I'm going to start a group dedicated to pummelling ravers into treating the environment with respect."