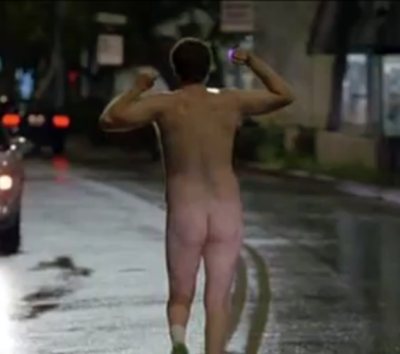 MASTURBATING MAN CHASES DJ DOWN ST-LAURENT
DJ Blitz, a 37 year old trap music DJ, was walking down St-Laurent on his way to a show when he was accosted by a fan. "This scraggy looking guy wearing a bomber jacket just shows up out of the middle of nowhere, unzips his diesel jeans and slaps me with his… private parts," said Blitz. "I was in a state of shock. He was completely exposed, stroking himself in the middle of a very busy street, telling me how much he liked my music."
The fact that it was -15 outside did not deter this deleterious fan from rubbing one out in the middle of St-Laurent. "I don't know if he was on drugs, or crazy, or what. I started walking away from him, but he just kept following me around, his manhood in hand, a big creepy smile on his face. He kept telling me how hot I made him, and yelling the word crunk over and over again. "
A crowd began drawing around the pair, and at least one witness called the police. "I asked the guy to stop jerking off, but he wouldn't stop," said Blitz. "I started walking really fast, but he kept up with me. Finally, after about two minutes of being followed around by this weirdo, I started running down the street at full speed. I was really surprised to see him running along side me, his penis flapping in the wind. He didn't give a damn."
The masturbating man ran down Prince Arthur after he noticed a police cruiser driving towards the pair. "I'm thankful that the police arrived when they did, otherwise who knows how long that masturbating guy would have followed me around."
The Montreal Police failed to catch him. "We believe that this man is a serial exhibitionist. We have two other open files that bare remarkable similarities to what happened to DJ blitz," said Sgt. Eric Leclerc of the SPVM. "DJs should be on the look-out for a tall, red haired english speaking male in his mid-twenties. We believe that this man will strike again, and we need the public's help in order to catch him."