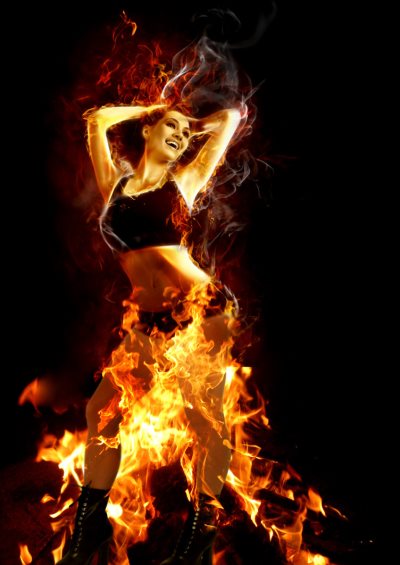 POLICE ASK RAVERS TO STOP SETTING PEOPLE ON FIRE
Montreal police have met with several of the city's most successful party promoters asking them to help pull in out of control ravers. "Ravers need to stop setting people on fire," says Sgt. Abernacle of the SPVM. "We've been very lenient with the city's rave community for the last few years, however, we cannot turn a blind eye to the recent spate of arson attacks being committed by ravers."
The promoters who met with the city's police force agree that something needs to be done. "Montreal is the only city where ravers throw molotov cocktails at the DJs for fun," says David Littleman, a happy hardcore promoter. "At my last party, someone set DJ Bixxy, our headliner, on fire. They just came up to the DJ booth, threw a bunch of gasoline on him, and lit a match. Having a bonfire in the park during the middle of summer? That's understandable, but what's happening Montreal is insane. No one sets DJs on fire in Toronto, or Vancouver, or even Halifax. This is only happening in our city, and the rave community needs to band together and put a stop to this before anyone else gets hurt."
Thierry Gauthier has been partying in Montreal since the early nineties. "In all my years on the dance floor, I've never seen anything like it," says Thierry. "It all started a few years ago, when a couple of ravers thought it'd be funny if they lit the dumpsters behind a venue on fire. After they got away with it, they decided to up the stakes. Soon, they were burning porta potties, after that they started setting trees on fire, and after that cars. Eventually other ravers started joining in the fun. Now, it's almost impossible to go to a party in this city without seeing something set on fire. It's insane. It's almost enough to make you want to stay home."
Jacques Lavigne, a popular Dubstep promoter, believes that the police are overreacting. "As a promoter, our goal should be to provide party goers with an outlet for their creativity. When people come up with new ways to enjoy themselves at our parties, say by lighting our DJs on fire, we shouldn't try to stop that. Instead, we should encourage it. The problem isn't that our DJs are being set on fire, it's that our DJs aren't wearing flame resistant clothing. Ravers want to set people on fire, and as businessmen, we have to rise to the challenge and provide them with a safe and humane way of doing that."