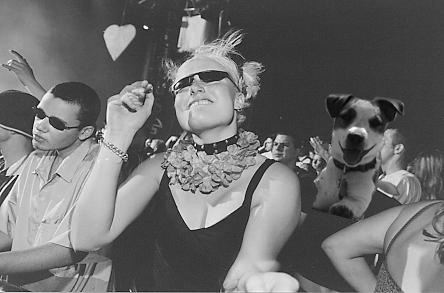 FAKE ROCKSTAR PAYS PHOTOGRAPHERS TO FOLLOW HIM
Don Vogel, the owner of a third rate Montreal music blog, has spent the summer pretending to be famous. "I paid a bunch of photographers to follow me around as if they were paparazzi," said Vogel. "I've always wanted to know what it felt like to be special. I already act like a diva, and I thought it was about time that people started treating me like one."
One of Vogel's photographers, Alyson Beaubois, told Rave News that following him around has been surreal. "He's a huge weirdo, but he knows it. Every few weeks, he'll hire a limousine to drive him to various clubs around Montreal. It's important to him that people think he's major league, which is bizarre, since only a handful of people read his blog. He wants to be the next Perez Hilton. Heck, he'd probably be satisfied if he was the next Paris Hilton."
Vogel says his experiment in fame isn't over. "I've started my own fan club. I sell t-shirts with my face on them on my website, and I'll even sign the shirts for an extra thirty dollars. Some people think you have to work for fame, but they're wrong. People are stupid, if you act like you're famous, they'll believe you. And when they think you're important, they give you more respect. You should see how well people treat you when you're riding in a limo or you've got photographers chasing you around. You can be rude and people will think you're charming, they give you free drinks at clubs, and men and women throw themselves at you. Fame is the ultimate aphrodisiac. Everyone wants to be around you when you're famous."
Jonah Smith is one of Vogel's early fans. "I bought his t-shirts before he was fake famous, and one day when he's real famous, I'll sell it on e-bay and make a fortune," said Smith.