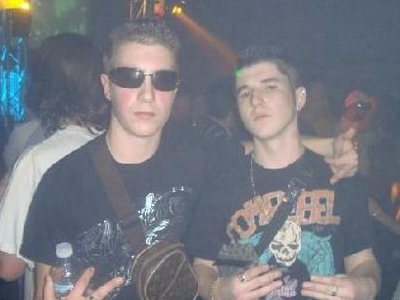 ANGRY NEIGHBOR ATTACKS STONED RAVERS
Lee Jendrensen and his flatmate Dan Herzog took peyote on Friday night, then decided it was time to move out of their apartment. "We were really stoned," says Dan. "I don't know what went through our minds, but we decided that we were fed up with our apartment, so we needed to move."
Lee laughs just thinking about it. "We started packing our stuff, putting it in boxes," says Lee. "We didn't have anywhere to move to. We were just going to put all our shit on the sidewalk and find a new place to live."
At around 2:30am, Lee and Dan had emptied out their apartment of most small items. "We're lucky no one was outside ransacking our shit," says Dan. "Seriously, we had dozens and dozens of boxes piled all over the place, and the two of us were so out of it, we wouldn't have noticed people stealing our stuff."
Finished with all the knick knacks and small items, the intoxicated duo decided it was time to move on to the big furniture pieces. "We started by moving a few couches, then our beds. Finally, we decided to get rid of this giant steel desk in Lee's room," says Dan. "It was massive, and we had no idea what we were doing. We just kept dropping the thing on the ground, making a huge amount of noise."
The ruckus they caused woke up several of their neighbours, none of which were pleased with the pair. "This giant hulking Russian guy lives right below us," says Lee. "He marched up to our apartment and asked us what the hell we thought we were doing. We told him we were moving. He told us it was 4 in the morning. We started laughing. And that's when he started hitting us."
Lee's face is still swollen. He showed Rave News several gashes he received. "The beating wouldn't have stopped had the neighbours not intervened. They pulled him off me. The rest of the night is a blur for both of us, but when we woke up, our boxes were back in the apartment, though I think the landlord's going to kick us out.
Dan doesn't look quite as bad as his flatmate, but he did lose a tooth during the assault. "When I woke up, one of my molars was gone. Peyote is a hell of a drug."