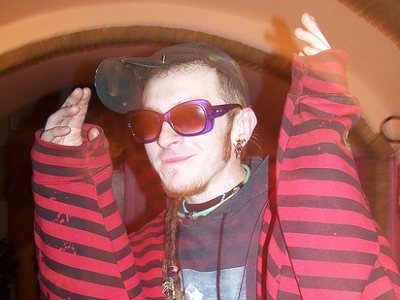 RAVER MAYOR TO TRANSFORM SMALL TOWN INTO PARTY MECCA
19 year old rave promoter George Spiegel has been elected the mayor of DesLauriers, a sleepy hamlet in eastern Quebec, after charges of corruption derailed incumbent Wallace LaSagesse's campaign for re-election. Late in the race, a city clerk leaked damning papers to the press which showed that Wallace had been lining the pockets of his family's construction business with city funds.
Wallace had been the mayor of DesLauriers for the last sixteen years, and has run unopposed in three of the last four elections. This year, after several fights with city hall, George Spiegel decided to throw his hat in the race and challenge the now disgraced ex-mayor.
"It was an accident of fate," says Ernest Kirouac, a local community activist. "George Spiegel was the only alternative. It was either vote for the raver or vote for the crook. The community chose the raver."
Mayor Spiegel is ecstatic with his electoral victory. "I got involved in town politics after Wallace made it nearly impossible for me to throw raves here. He kept passing bylaws that specifically targeted the parties i'd been throwing since I was 16. He'd pass curfews, loitering laws, and absurd zoning regulations in order to obstruct my ability to party. I got fed up and decided to run for office. I knew it was a long shot, but anyone who has ever had to deal with Wallace knows just how corrupt he is, so i'm not entirely surprised that I won."
Elizabeth Trudeau, the city clerk who leaked the reports, is glad to see Wallace booted out. "George Spiegel isn't the first teenager to be elected mayor of a small," said Elizabeth. "And few of the teenagers who have found themselves in political office, have done worse than their adult counterparts, and some of them have done much, much better. As inexperienced as George Spiegel might seem, I believe he will make a far better mayor than Wallace LaSagesse."
Mayor Spiegel has big plans for DesLauriers. "I'm an entrepreneur and an entertainer. My goal as mayor is to put DesLauriers on the map as a festival mecca. I will make it the Black Rock of the north, a town that is famous for its festive party culture. I'll be putting forward countless initiatives to make this town the most rave friendly in the world. Tourists will flock from all over to visit, and they will bring tourist dollars with them. It's going to be epic."