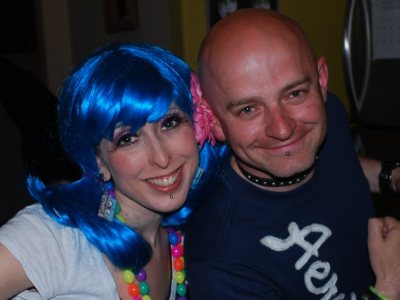 RAVER ALMOST DIES AFTER BEING ASSAULTED WITH TOMATO SANDWICH
John Devlin was on his way to Picnic Psychedelic last week when his girlfriend, Mandy Jenkins, attacked him on the street with a tomato sandwich. "I'm allergic to salicylates, a chemical compound found in many natural foods, including tomatoes," John told Rave News. "When Mandy hit my face with that tomato sandwich, she was trying to kill me. She knows all about my allergies."
John's entire body was covered in hives within minutes of the attack. "Allergic reactions are nothing to laugh about. They can come fast and furious, and they can be deadly. I had to be rushed to the hospital, and the police aren't taking this seriously at all. They think it's a joke."
Police refused to comment on the case, but community activists for the Men's Rights League of Montreal have vowed to pursue justice on John's behalf. "John was sadistically attacked by his girlfriend, but as in many cases of domestic abuse in which women instigate attacks men, not always with vegetables, the police turn the other cheek. There is a clear pattern of discrimination in this justice system which refuses to acknowledge that women are also capable of being violent. Just because it was a sandwich, doesn't mean his girlfriend wasn't using deadly force."
Thomas Frenettiere, Mandy's best friend, wasn't surprised by her attack. "She caught John messaging with a girl on Facebook, and Mandy's really jealous," said Thomas. "The last time one of her boyfriends spoke to another woman, she set his house on fire. She does cute things like that, it's really adorable."
Mandy insists that she's done nothing wrong. "Yes, I know John's deathly allergic to tomatoes. I hope he's learned his lesson."
Erin and Leroi Jenkins also defended their daughters actions. "Girls will be girls," said Erin. "You know how they are at that young age."
John has tried to break up with Mandy, but she refuses to acknowledge that the two are no longer together. "She just refuses to take no for an answer, and the police refuse to let me file a restraining order," John said. "I went dancing with some friends on Monday, and she showed up and started chasing me with a tomato again. This whole ordeal has been terrifying. I might have to move cities just to get rid of her."
Mandy thinks John's just overreacting. "He's playing hard to get. He knows we're meant for each other."