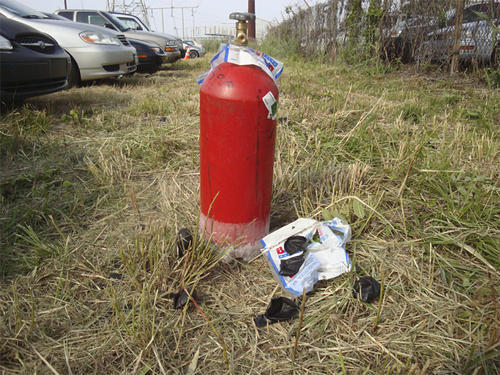 Prince William was in the news recently for airlifting a man having a heart attack off of a gas rig. He was busy being heroic while his younger brother, Prince Harry, was allegedly busy getting high on hippie crack at a rave.
News out of the UK is that the man who is third in line to the throne of Canada spent a lovely Friday sucking on ballons full of nitrous oxide. Royal groupies fought for his attention, but apparently the Prince of Canada was more interested in the balloons than in the bimbos.
Witnesses report that Harry had a blast on laughing gas, partying until the wee hours of the morning, when finally he succumbed to the temptation of two lovely lasses. The trio snuck away from the party at 5am, when they apparently absconded to St-James Palace for a depraved morning of sexual excess.
St-James Palace rests on the former site of a leper hospital, and considering the alleged behavior of our beloved Canadian Prince, it is apparent that the lepers have given way to lechers.
I would like to take this moment to point out that huffing nitrous is an incredibly ghetto ways of getting high. It's only slightly classier than hanging out in a Walmart parking lot on a Saturday afternoon, scouting for parked cars that have their engines turned on, then kneeling behind them in order to breath in the fumes coming out of their exhaust pipes.
You'd expect a Prince of Canada to pursue more rarefied highs. Like opium suppositories or LSD eyeball injections.
Hippie Crack, though?
It's undignified and déclassé.
If the people of Canada are going to have a drug addled, party mad Prince, then we deserve to have one that knows how to lose his mind in a proper and dignified manner.
On that note, I would like to extend an invitation to our Royal overlord. Harry, if you're ever in Canada, the people of Rave Canada will throw you a magnificent party.
Our women are cheaper, our booze is better, and over here we don't get high on laughing gas. We get high on life.
Among other things.