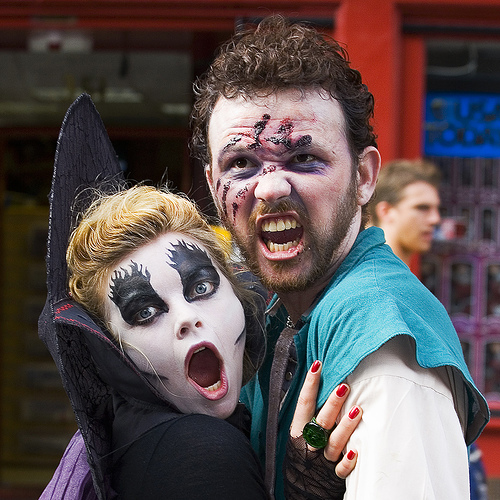 One of Montreal's most active raver kids has landed himself a hottie of a girlfriend. This lovely lady isn't some nobody either -- she's an up and coming movie starlet that's been in at least one blockbuster hit. The unlikely pair met during the fall, while the beautiful brunette was filming a period piece in the Old Port.
She went partying with her co-stars at a club the raver likes to frequent, the two bumped into each other, sparks flew, and they've been an item ever since. They've kept their relationship on the down low since hooking up, and the woman has spent a considerable amount of time teaching her naive lover how to avoid the prying eyes of the paparazzi. Of course, when you're head over heels in love like this raver boy is, it's hard to keep that a secret. He told a few friends, and they told a few more, so now it's pretty much an open secret in some raving circles.
Unfortunately for the pair, the girl is going to have leave Montreal soon. Her movie wrapped up shooting at the end of November. She extended her stay in Montreal a few weeks just to be with her boy toy, but reality beckons, and soon she'll have to head back to Los Angeles. Our raver is crest fallen, and is seriously thinking of moving to California just to be with her. She's not convinced that's a good idea, but she isn't against it either.
For now though, they're just living their lives one day at a time, enjoying their moments together while they can.